From the Ahwatukee Foothills News, June 24, 2018
Love for their pet inspired Ahwatukee couple's business
By Paul Maryniak, AFN Executive editor
Nora and Casey Jones met as ASU sophomores on a blind date over a bowl of ice cream.
That eventually led to a marriage for the Ahwatukee couple six years ago, two sons both under 2 and a love affair that produced a business.
That love affair involved Cabo – a Goldendoodle that, they say on their website, "they had no idea how much they could love."
"Knowing that their dog's lifespan would be a fraction of theirs," they add, "they became determined – some would say obsessed – to find the best nutrition and health products available to enable as long and healthy a life as possible.
And because they came to believe "a lot of companies selling a lot of stuff in fancy packages" are offering "mostly marketing fluff and mediocre product" that they didn't think were good enough for Cabo, they formed Primo Pup Vet Health.
Their company sells canine vitamins and supplements as well as first aid sprays and eye and health care products – all produced by a collaboration with veterinarians and pharmacists.
"We founded the idea for the company together and work together in terms of high-level strategy," said Nora, an attorney with Tiffany & Bosco who specializes in elder law.
Day-to-day operations of Primo Pup are handled by her husband, an ASU W.P. Carey School of Business grad with an MBA from Auburn University.
Their affection for their dog is the guiding principle for the company: Ensure as long a life as possible for man's best friend.
Casey, a South Dakota native who moved to Arizona in 2004, and Tempe-born Nora live in Club West, having moved into Ahwatukee as soon as they married because "we adore the small-town community feel."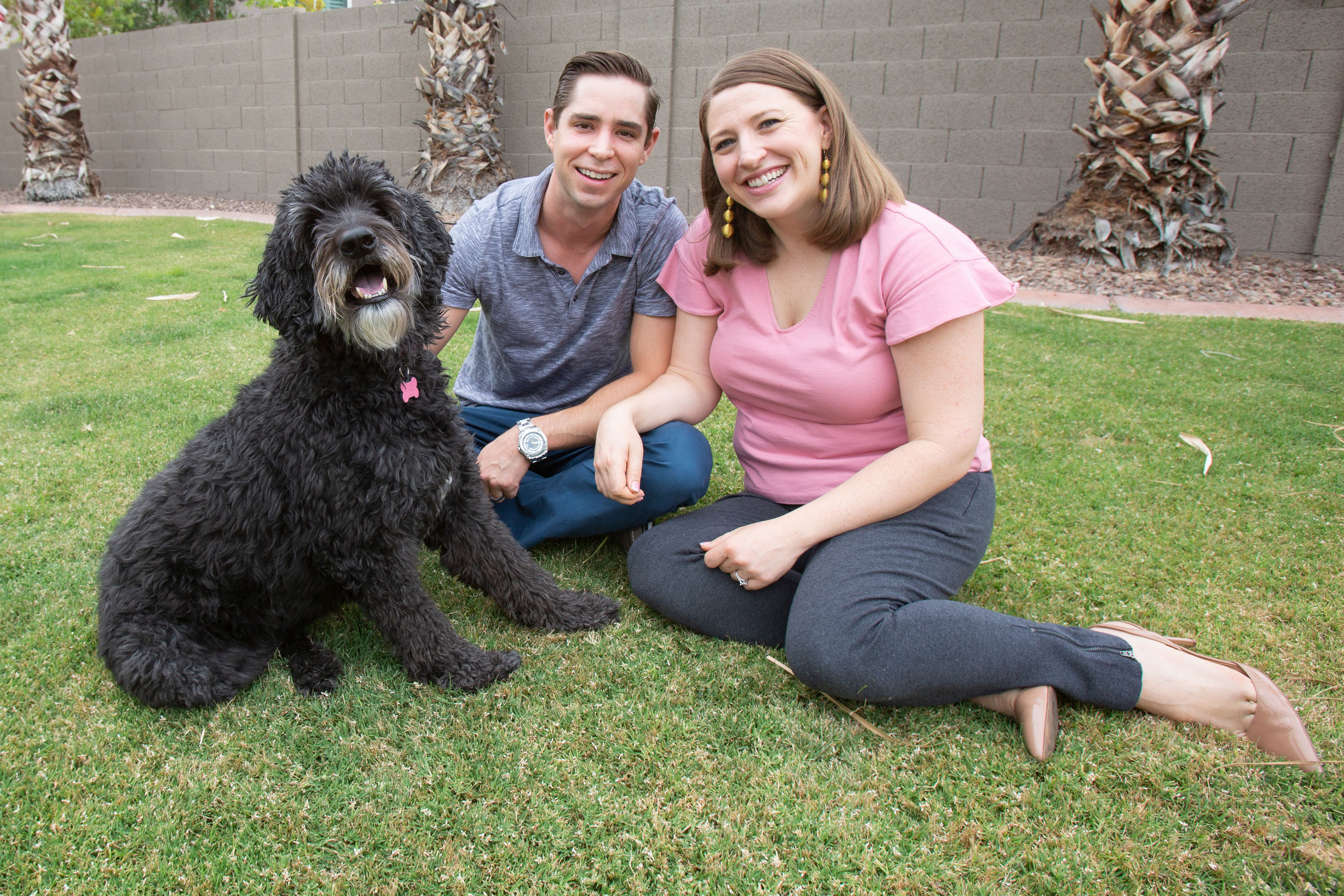 While Primo Pup Vet Health is their main company, it's also given birth to a second, Vet + Instinct, which sells a premium line of products for specific needs, such as hip and joint support. Both product lines are available at retail outlets throughout the country as well as online.
"We have become really good at formulating canine healthcare products," said Nora. "While our Primo Pup Vet Health line of supplements offers outstanding, powerful solutions for most animals, at times a more robust formula is necessary. Vet + Instinct offers an ultra-premium blend that includes more active ingredients to really target specific concerns."
The business started before parenthood.
"As with anybody who adopts a dog," Nora explained, "she became our world and we wanted the best for her. We are both really into nutrition and started researching ways to ensure she was getting the best to result in the longest, healthiest life possible for her. Not finding exactly what we wanted, we developed our first product, a puppy multivitamin, using Casey's background in manufacturing."
They're in, she said, "an extremely competitive market," so they maintain an edge with "the best products available and outstanding customer service."
"Our formulas are complete and balanced and deliver powerful solutions that work and work quickly. At the same time, we believe in really taking care of our customers whether that means helping them to find the right product fit for their needs or addressing any concerns they may have," Nora explained, adding:
"We are lucky to be in a business founded on a love for pets. Having our mission to make those pets as happy as they can be every day is really motivating.
"Often times our clients find us as they are trying to solve a problem their animal is experiencing. For example, if their dog's skin is irritated or flaky they may seek out one of our skin and coat supplements," she said.
"Many of our products bridge the gap before prescription medications from a veterinarian and may negate the need for these more expensive therapies. Of course, other products that we offer are maintenance products that every dog parent requires, an ear cleaner for example."
She said their audited membership in the National Animal Supplement Council, "which is the gold standard in the animal supplement industry," also helps give them a competitive edge.
But because they continue trying to be "very careful about the products that we formulate and manufacture," cat lovers won't find any help from their products.
"Our core competency is in canine healthcare and nutrition – it's what our entire staff are experts in and are really good at," Nora said." We stay focused on the mission of providing the most robust formulas possible for dogs to ensure that we are doing just that without distraction."
Source: http://www.ahwatukee.com/business/article_edc13094-74b9-11e8-960e-cb0d1276f361.html